Industrial Autoclave Manufacture
Cyclotherm Boilers has manufactured over 130 industrial autoclaves for the South African and international markets. Our experience has resulted in unique methods that are now standard across the industry.
Cyclotherm Boilers is a proud leader in the design and manufacture of industrial autoclaves in South Africa and beyond. As one of the countries most trusted autoclave suppliers, our reputation is first-rate. We're often approached for our unique autoclave design that is suitable for electrical, dry and wet steam heating.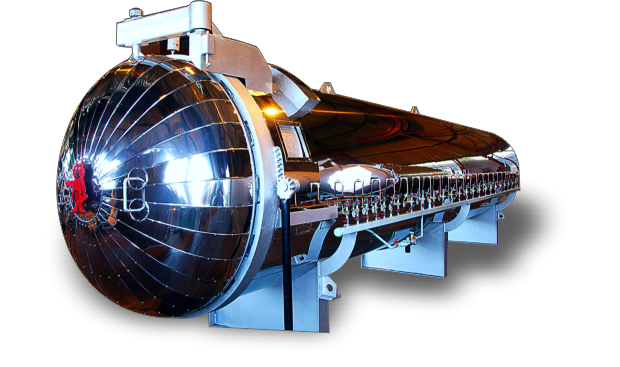 What makes our industrial autoclaves stand out from other industrial autoclave suppliers in the market? Our products have an exceptional design that makes them safe and sought-after. We've integrated a hinged door into our autoclave design and have fitted our own loose ring door-securing device to complement it. This device promises perfect pressure retention and a long seal life. While the door-securing device rotates, the door does not, resulting in smooth operation with minimal effort. As an added safety feature, every one of our industrial autoclaves is fitted with a mechanical door safety device. This ensures that the door cannot be opened while the chamber is still under pressure. Each autoclave is lagged with fiberglass for added insulation, and comes with galvanised stainless steel sheet cladding.
Our industrial autoclaves can be built to your exact requirements and every product meets strict international standards. From design approval to inspection, procedures and methodologies, world-class quality is standard here at Cyclotherm Boilers.
Our team has manufactured over 130 industrial autoclaves for South African and international markets and this has added to our already exceptional knowledge bank and improved our skillset. We're masters when it comes to workmanship, and every autoclave is made to British Standard or American Standard, including South African inspection and design approval SANS 347: 2008 (RSA/CIF 8.1 07 A 08). Each product is issued with an inspection certificate.
Cyclotherm Boilers is an autoclave supplier that manufactures industrial autoclaves extensively for a wide range of other industries that include:
Michelin
Mining
Timber Curing
Textiles
Tyre Re-treading
Rubber Curing
Curing of Composite materials
Printing
Agriculture
Epoxy products
Plate glass annealing
Millboard manufacture
Inspection
At Cyclotherm Boilers, we're not just an autoclave supplier. Our skills are all inclusive, and this includes a qualified team trained to carry out annual and statutory inspections of your autoclaves and pressurized systems. All autoclave inspections adhere to the terms set out in the Occupational Safety Act 85 of 1993, as amended 2009 (SANS 347).
Insulation
Every autoclave we design and manufacture adheres to strict international standards, and our team is experienced in autoclave insulation. We specialise in the lagging and cladding of industrial autoclaves with either galvanized or stainless steel sheeting.
Conversions
The Cyclotherm Boilers team are highly skilled in industrial autoclave conversions. We can convert your electric autoclave to dry or wet steam heating and vice versa. Our team can also extend or shorten autoclaves to suit your needs.
Ancillary equipment and spares
At Cyclotherm Boilers we know how important it is to have high quality spares and ancillary equipment on hand when it comes to ensuring the health of your industrial autoclave. We supply a wide range of valves, steam traps, strainers, safety valves, control equipment and electrical elements. Our knowledgeable team will supply you with the right spare parts or equipment at the right price.
Door Seals
Cyclotherm Boilers is still the leading supplier of industrial autoclave door seals. We have supplied door seals for the past 30 years, and our experience and knowledge make us a first port of call for many industries.
Reconditioning
At Cyclotherm Boilers, we don't just manufacture exceptional quality industrial autoclaves, we extend the life of used autoclaves, too. We're skilled in refurbishing and reconditioning used autoclaves. Because quality is always key to our team, every autoclave that we rebuild carries a 6 month guarantee.
Why Do I Need Cyclotherm's Solutions?
patented technology
We manufacture a comprehensive range of Heated Boiler solutions with our patented heating solution.
quality manufacturing
Our quality of material and manufacturing processes ensure you get the end product you expect.
breakdown service
We know and understand our clients needs to be kept up and running and the cost of having their system down, which is why we have emergency services available.
Proudly South African
We are a home grown South African company founded in 1970.
Affordable solutions
When it comes to longevity, our product outlasts anticipated life spans and stands up extremely well against the test of time. Many of our systems are still running 40+ years later.
maintenance
We have dedicated teams qualified in ensuring you are kept up and running.
HOT WATER STORAGE HEATERS
Electrical Hot Water Heater